The history of Latin America in F1 - Part 2: Ayrton Senna
On March 21, 1960, one of the greatest figures in motorsport was born. From a young age, Ayrton was a skilled kart driver who won the first South American championship in that category at the age of 17. In 1978 he traveled to Europe to compete for the World Championship for the first time outside of Brazil and began to write the history that would change Formula 1 forever.
Due to his undeniable talent, Ayrton caught the eye of several of the top-flight teams including McLaren, Williams, Toleman and Brabham, who signed him up as a test driver. In 1984, Ayrton had achieved it: he signed with Toleman and was in Formula 1. Being a new team and without much experience, the Brazilian driver's first steps in the maximum were not easy. However, his most remembered performance that year came at the Monaco Grand Prix, when talk began of his remarkable talent on a wet track. That year he finished with 3 podiums and in 1985 he started with Lotus.
Lotus was the perfect team for Senna. It was a team with many championships and Grand Prix wins, which worked very hard to give Ayrton and his talent all the support so that he could consecrate himself. It would be at the Portuguese Grand Prix, under intense rain, where he would achieve his first victory with a difference of more than a minute compared to second place. For 1987, Lotus switched to Honda engines and Senna achieved his best result, finishing third in the drivers' table.
Not content with that, in 1988 the Brazilian signed with McLaren as Alain Prost's partner, achieving his first world championship at the same time that one of the fiercest rivalries in history was born.
The 1989 season was less harmonious than the previous year. Both pilots reached different levels of aggressiveness and were increasingly distant from each other. The championship was head to head and Senna had to win the Japanese Grand Prix to extend the definition to the last race.
Prost came forward because he started better. As Senna tries to pass him, Prost crashes into him and is out of contention. Ayrton goes to the pits and returns to the track. With just five laps to go and with little room for manoeuvre, Ayrton manages to pass Nannini and win the race. However, Ayrton was excluded from the final result of the test because the stewards decided that by not taking the chicane normally on his return to the track, he was in breach of article 56 of the FIA regulations. In addition, Senna was suspended from his license for six months and fined $100,000. It was perhaps the hardest blow for Ayrton, where he even reconsidered continuing to race in Formula 1.
In the 1990 season, he came back more experienced, there was harmony in the team, Prost had moved from McLaren to Ferrari and Senna was in the perfect position to challenge for the title. In different teams but with the same hunger for victory, Ayrton was crowned champion in 1990 and 1991 consecutively. At 31 years old, with 33 wins and 3 world championships, he broke record after record. The great idol of Brazilian sports became the great idol of world sports.
In the following season, the level of competition was altered by the technical advances of the Williams car. The car was self-balancing and every corner was computer controlled, so a driver in a car without these advances was at a serious disadvantage. McLaren was a long way from Williams-Renault's pace and as a result, the three-time world champion was left with no chance of retaining the title.
In '93, Prost won the championship and announced his retirement. It was Senna's last race with McLaren, Prost's last with Williams and, although nobody knew it at the time, it would be the last time either of them would stand on the podium.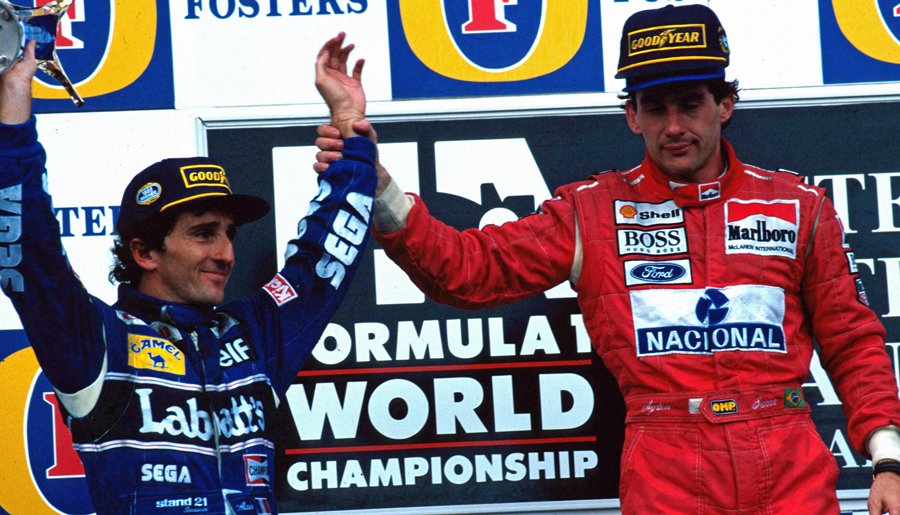 With the technical improvements of Williams and a McLaren in decline, Senna decides to sign with the British team. Paradoxically, that same year, active suspension is prohibited by the FIA and Ayrton is left at random with a car that, in his own words, was unmanageable. On the third round of the 1992 championship, the San Marino Grand Prix, Senna would start what would be his last seven laps.
At 307 km/h, in the Tamburello corner, the car's steering rod breaks and Senna crashes the right side of the car into the wall. A tragic moment that was etched in the memory and hearts of all fans. Thus, the life of one of the most legendary Formula 1 drivers was lost, who fought against all adversity, not only from his team but from the International Automobile Federation itself.
- "While in the face of adversity some give up, others break records"
Author: Florencia Andersen
References:
Gent, J., 2020. Could Ayrton Senna have joined Williams for 1992?. [online] Petrolicious. Available at: <https://petrolicious.com/articles/could-ayrton-senna-have-joined-williams-for-1992> [Accessed 6 August 2021].
Gent, J., 2021. FIVE lesser known facts about Ayrton Senna's Lotus F1 years. [online] Petrolicious. Available at: <https://petrolicious.com/articles/five-things-you-may-have-forgotten-about-ayrton-sennas-lotus-f1-years> [Accessed 6 August 2021].
Mclaren.com. 2021. McLaren Racing - McLaren wins by country: Top 10 nations. [online] Available at: <https://www.mclaren.com/racing/heritage/mclaren-wins-by-country-top-10-nations/> [Accessed 6 August 2021].
Productions, P., 2018. Remembering Ayrton Senna, As If He Could Be Forgotten. [online] Petrolicious. Available at: <https://petrolicious.com/articles/remembering-ayrton-senna-as-if-he-could-be-forgotten> [Accessed 6 August 2021].
Twitter. 2021. 7 Nov 1993, Adelaide: Ayrton Senna & Alain Prost appear on an #F1 podium for the last time #OnThisDay #Legends. [online] Available at: <https://twitter.com/F1/status/662930504606314497/photo/1> [Accessed 6 August 2021].