Mexican pride: 5 drivers who made history in motorsports
Mexico is one of the Latin American countries with the most history in motorsports and the passion in its land lives in each one of its fans. In the week of their independence, we review the story of 5 pilots who put their country's flag on top: Benito Guerra, Sergio "Checo" Pérez, "Memo" Rojas, Patricio O'Ward and Esteban Gutiérrez.
If we are talking about Rally, Benito Guerra Jr. is one of the greatest Mexican figures. This star driver began his career at the age of 9, when he began his path in motorsport, both in the area of motorsports and motorcycling.
Since he was a child, he accompanied his father as a co-driver in different automobile competitions such as the Pan-American race.
His participation in the Mexican Rally Championship began in 2004, where he was champion in 2006 and 2007.
In 2011 , was crowned the winner of the Spanish Dirt Rally Championship, giving his victories an international character.
Guerra Jr. is the first Mexican rally driver to win a World Championship, the PWRC World Championship (WRC 2), and the second Mexican driver, after Pedro Rodríguez , to obtain a world title endorsed by the FIA.
In 2012, he raced in the ROC alongside Ryan Hunter-Reay, taking 2 wins. The absolute conquest of the competition would come in 2019, when Guerra Jr. managed to defeat renowned drivers such as Sebastian Vettel and Pierre Gasly.
Sergio "Checo" Pérez
The renowned and only current Latin American Formula 1 driver was born in 1990 in Guadalajara. Checo started racing karts at the age of six, where he still holds the record for being the youngest driver to participate in the Youth Category (1997) and to win that Championship (1998).
But he wasn't the only one: in 1999, the Mexican was also the youngest rider to win a Shifter 80cc series competition.
At his young age, it was clear that Checo Pérez would go far. After having won several times, his professional career officially began in 2004.
His international projection was clear from the beginning, so in 2005, at just 14 years old, He left for Germany to compete in Formula BMW. Being part of this championship meant a great first step towards the ultimate goal: Formula 1.
In 2007, The man from Guadalajara managed to become champion of the British Formula 3, honoring his history of records, winning both points and being the youngest driver to do so, at just 17 years old.
Three years later, and after a successful stint in GP2, Checo Pérez finally fulfilled his dream of competing in Formula 1 with the Sauber team.
In 2013, he had the opportunity to replace Lewis Hamilton at McLaren but his true place would be found the following year , at Force India.
< div class="layoutArea">
The best years of this team had Checo as the protagonist, who made a great contribution so that Force India will finish fourth in the Constructors' Championship.
In 2019, Force India was rebranded as Racing Point. Despite a difficult start to the year, the second part of the season was more benevolent: the team was able to get back on its feet and Checo Pérez obtained 52 points that placed him in tenth place in the Championship.
At the end of 2020, the Mexican driver got his first victory after an exciting race at the Sakhir Grand Prix, where he started from last place. In this way, he obtained the best result of his career with 125 points and a fourth place in the Drivers' Championship.
Almost with one foot out and after months of uncertainty, the Red Bull Racing team he eventually offered him a spot as a partner to current Championship contender Max Verstappen.
Back then, Checo claimed to be in the best moment of his career and he proves it, having already obtained a victory on the sixth round of the calendar.
Currently, he is still the sixth Mexican to compete in the top category and still retains his characteristic specialty: tire management.
< strong>"Memo" Rojas, Jr.
The surname "Rojas" definitely carries a legacy within motorsports and that is that the talent behind the wheel runs in the family. Memo's father, Guillermo Rojas Sr., raced for almost five decades and owns 12 national championships in his history.
The career of "Memo" Rojas began when he was 12 years old, when he began to compete in karting and just two years later, he became the national champion of the category.
In the Mexican Formula 3, he was runner-up in 1997 and 1998.
His next title came in 2003, when he won he was crowned runner-up in the Barber Dodge Pro Series, a category in which he raced in Mexico, the United States and Canada.
But the real jump to stardom was in 2007, when he signed with Telmex-Ganassi Racing. It was the best team in the Grand American Road Racing Association (Grand-Am), a company that organized different prototype races on the roads of the United States.
His teammate was none other than racing legend Scott Pruett, and it was then the most successful period of his career: he was runner-up in 2009 and 2013, and champion the rest of the years (2008, 2010, 2011 and 2012).
During that time, "Memo" Rojas also stood out in the most famous endurance races: he won three times in the 24 Hours of Daytona (2008, 2011 and 2013); another three in the 6 Hours of Watkins Glen (2008, 2009 and 2010); and a last one in the 12 Hours of Sebring (2014).
More recently, in 2017, Rojas garnered a new title by being crowned champion of the European Le Mans Series.
What is inherited, is not stolen, right?
Patrick O'Ward
< img src="https://cdn-1.motorsport.com/images/mgl/YW743vBY/s1200/patricio-o-ward-arrow-mclaren--1.webp" alt="Patricio O'Ward IndyCar Arrow McLaren SP " style="float: none; display: block; margin-left: auto; margin-right: auto;" width="470" height="313">
Born in 1999 in Monterrey, Patricio O'Ward Junco, also known as Pato O'Ward, is one of the youngest talents in Mexican motorsport.< /p>
He competed in karting from 2005 to 2012, years in which he achieved several championships both in his native country and in the United States.
What followed was the beginning of his international career. He took fifth place in the Formula 2000 Pacific championship, having won four of the five races he entered. In the French F4 Championship, he placed seventh of the season.
During his second year in the Pro Mazda Championship, in 2016, he won six of the first seven races to ultimately take the runner-up spot.
Together with teammate James French, Pato O'Ward raced and was crowned champion of the WeatherTech SportsCar Championship Prototype Challenge class. In addition, he became the youngest driver to win the 24 Hours of Daytona and the 12 Hours of Sebring, at just 17 years of age.
As if that were not enough, in 2018 he was champion in the most important single-seater category in the United States, the Indy Lights Series, accumulating nine victories and three second places.
div>
Currently, he races in IndyCar with the Arrow McLaren SP team, where he has already won two victories and is very close to the championship. Will it be given to the Mexican this year?
div>
Esteban Gutiérrez
Did you know? Only 6 Mexicans have participated in Formula 1, and one of them is Esteban Gutiérrez. A native of Monterrey, he was born in 1991 and at the age of 13 he began racing in go-karts. He made it to the world final in Malaysia and three years later, it was already clear to him that single-seaters were his place.
His ultimate goal was to reach Formula 1, so in 2007 he traveled to the United States to compete in Formula BMW.
After finishing second in the championship with four wins, eight podiums and nine pole positions, in that first season, the Mexican driver was chosen as the Rookie of the Year.
The following year, Esteban Gutiérrez was champion in the newly released Formula BMW Europe with 7 wins and 12 podiums in 16 races.
In 2009, the Mexican driver got into a Formula 1 single-seater for the first time. The opportunity came as a prize for winning the Formula BMW Europe championship and was carried out at aboard the BMW Sauber F1.09, in the young driver tests.
The years passed and the successes continued: in 2010, he was the first champion of the brand new GP3 Series category and, consequently, he was chosen as the official test driver of the team Sauber in Formula 1.
In 2012, he moved up to the GP2 Series and made his official Formula 1 debut at the Indian Grand Prix, replacing his compatriot Checo Pérez.
His talent and skills did not go unnoticed, and Sauber took note. At the end of the year, he was signed as the team's regular driver for the following season.
At the 2013 Spanish Grand Prix, Esteban Gutiérrez achieved his first fastest lap of the race placing second in the "Youngest Driver to Set a Fastest Lap" records after Nico Rossberg. His first six points were achieved at the Japanese Grand Prix, and they were the only ones with which he would finish the Championship that year.
The 2014 season was Esteban Gutiérrez's last with Sauber and after a brief stint as a test driver for Ferrari in 2015, in 2016 he returned to the tracks with Haas, where he raced alongside Frenchman Romain Grosjean.
Finally, in 2017, Esteban left Formula 1 to participate in Formula E, where he replaced one of the Techeetah team drivers.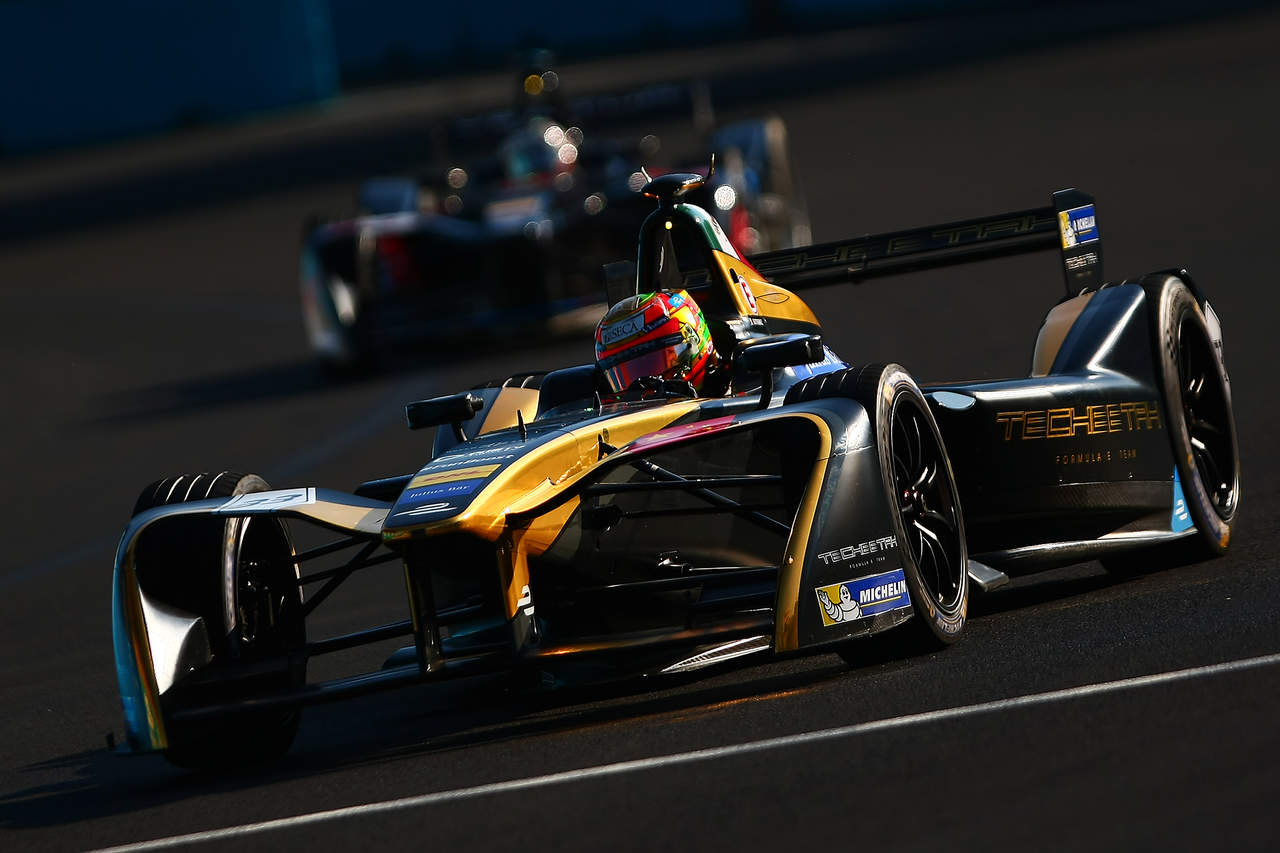 Since 2019 and up to the present, the Mexican driver continues to be linked to Formula 1 by the hand of Mercedes< /span>, where he plays an important role as Brand and Business Ambassador.
< div class="column">
Esteban is also the founder of this community created with the aim of bringing motorsport fans and enthusiasts closer to their passion. Edasi means to move forward and the name is a representation of what life means both to him and surely to many of you.
Follow us on our social networks, visit our store and find much more content of this type at our blog.
Viva México!
div>
div>
Author: Florencia Andersen
References
ARIZ Speed (2021). Esteban Gutiérrez, the misunderstood. ARIZ Speed. Retrieved in September 2021, from https://arizspeed.wixsite.com/arizspeed/single-post/2017/05/24/esteban-guti%C3%A9rrez-el-incomprendido
The Intra America News (2021). "I had to take advantage of this opportunity: Patricio O'Ward makes history in IndyCar. El Intra América News. Retrieved in September 2021, from https://elintranews.com/sports/2021/05/ 03/had-to-seize-this-opportunity-patricio-oward-enters-history-in-indycar/
ESPN (2021) Esteban Gutiérrez announced that he will continue with Mercedes ESPN. Retrieved in September 2021, from https://www.espn.com.ar/deporte-motor/f1/nota/_/id/8380207/esteban-gutierrez-mercedes-formula-1-embajador-escuderia
< meta charset="utf-8">
The Century of Torreón (2017). Happy Gutiérrez for his debut in Formula E. The Century of Torreón. Retrieved on September 2021, from https: //www.elsiglodetorreon.com.mx/noticia/1327374. feliz-gutierrez-por-su-debut-en-la-formula-e.html
Fernández, I. (2017)."Benito Guerra WILL COMPETE In The WRC2 With A Skoda Fabia R5". Diario Motor. Retrieved in September 2021, from www.diariomotor.com /competition/news/ benito-guerra-will-compete-in-the-wrc2-with-a-skoda-fabia-r5/.
Gutiérrez, H. (2016). "Sergio "Checo" Pérez will also race his hundredth grand prix in Russia". Diario Motor. Retrieved in September 2021, from https://www.diariomotor.com/competicion/breve/sergio-checo-perez-tambien-correra-su-gran-premio-numero-cien-en-rusia/
Guadalajara icon. (2012). Category Archive: Motoring. Guadalajara icon. Retrieved in September 2021, from https://iconogdl.wordpress.com/category/automotive/
Jiménez, M. (2019). "Benito Guerra conquers Mexico rally in the WRC2". Record. Retrieved in September 2021, from https://www.record.com.mx/otros-deportes/benito-guerra-conquista-rally-mexico-en-el-wrc2.
Mexican Leaders (2021). Esteban Gutiérrez will be Ambassador of the Mercedes F1 team. Mexican Leaders. Retrieved in September 2021, from https://lideresmexicanos.com/noticias/esteban-gutierrez-sera-embajador-del-equipo-f1-de-mercedes/
Montero, D. (2017). Esteban Gutiérrez signs for the Techeetah Formula E team. The Odometer. Retrieved in September 2021, from https://elcuentakilometros.com/2017/03/09/esteban-gutierrez-ficha-por-el-equipo-techeetah-de-formula-e/
Windshield (2021). "What did the Mexican Checo Pérez say after his victory with Red Bull in F1". Windshield. Retrieved in September 2021, from https:// windshield.perfil.com/noticias/novedades/sergio-checo-perez-y-su-primer-triunfo-con-el-equipo-red-bull-de-f1.phtml< /p>
Ramírez, L. (2021). Patricio O'Ward and his goal for IndyCar 2021. Motorsport. Retrieved in September 2021, from https://lat.motorsport.com/indycar/news/patricio-oward-objetivo-indycar-2021/6300659/
< meta charset="utf-8">
Red Bull (2021). "Guillermo Rojas: The Resistance Pilot". Red Bull. Retrieved in September 2021, from https://www.redbull.com/mx-es/athlete/guillermo-rojas
Sáez, J. (2020). "Paradoxically, Racing Point recommends the signing of Sergio Pérez to Red Bull." Car and Driver. Retrieved in September 2021, from https://www.caranddriver.com/es/formula-1/a34889388/f1-racing-point-recomienda-perez-red-bull/
SnapLap (2018). Patricio O'Ward is the 2018 Indy Light Champion. SnapLap. Retrieved in September 2021, from https://www.snaplap.net/2018-indy-lights-finale-portland/
Wikipedia (2020). "Force India VJM07". Wikipedia. Retrieved on September 2021, from https://es.wikipedia.org/wiki/Force_India_VJM07
div>
Sign up and save
Be the first to know about our special offers!
l